Beautiful Blooms in the Mitten
Our Mission
To provide the highest-quality, most diverse offering of Michigan-grown cut flowers and foliages for the floral trade with the convenience of a once-weekly, aggregated marketplace. We aim to grow the market for locally-grown flowers and foliages and facilitate relationships and education between farmers, florists, and end users.
What We Do
The Michigan Flower Growers' Cooperative started in the summer of 2016 with a series of conversations lead by Amanda Maurman and flower growers in the greater Ann Arbor area about how best to serve the needs of growers through marketing and distribution of their products to the wholesale market.
The Michigan Flower Growers' Cooperative is a member-based cooperative of flower growers in Michigan and northern Ohio. Members of the cooperative sell wholesale flowers, foliage, succulents and other ornamental plants to florists, floral designers, and wholesale distributors who want fresh, high quality local products at competitive prices.
contact
info@miflowercoop.com
Location
Robert C. Barnes Sr. Marketplace Hall
16 South Washington
Ypsilanti, MI 48197
Market Hours
April 10 - October 23, 2019
Wholesale:
Wednesdays 8am - 11am
Retail:
Wednesdays 10am - 12pm
With the loving support of my family, I own and run a small cut flower farm and design studio out of my home in Ann Arbor. I utilize organic and sustainable practices and I love growing a diversity of unique and interesting blooms that inspire creative and natural design. I design for small weddings, events, and funerals, and also cooperate with the Slow Farm on Whitmore Lake Road to provide u-pick flowers for the public. I work with what is in season first, and love to collaborate with other local growers. I only source from other American farms when absolutely needed
I own and operate Seeley Farm in Ann Arbor with my husband, Mark Nowak. We grow certified organic vegetables and cut flowers for sale to farmers' markets, chefs and grocery stores.

I got bit by the flower bug five years ago when I planted two beds of mixed flowers as an afterthought along with our vegetable plantings. Those two beds quickly grew to almost a half acre of mixed annual flowers and foliage, a growing collection of dahlias, and new perennial plantings every year. I like to arrange with unique ingredients like foraged greenery, vegetables and herbs. I've also been experimenting with lots of everlasting varieties as a way to enjoy locally grown flowers all season long.
I am the co-owner of Sunseed Farm, a diversified vegetable farm selling to chefs, grocery stores, and our CSA members since 2009. Flowers have been a side project of mine that has grown slowly and steadily into a passion. At first I sold a few bunches at the farmer's market, then I started a flower CSA, and now I sell to restaurants, florists, and floral designers in Ann Arbor and Detroit. Each year I find more to love about flowers and believe that by helping to cultivate a vibrant and sustainable local flower market I am truly making the world more beautiful.
Fresh Cut Detroit is my farm, founded in 2013. I grow as many types of flowers as I can muster, for just about any purpose you can imagine. I enjoy doing my own event and design work, as well as selling directly to consumers & florists. I have been working in agriculture-related justice work for ten years, and I'm learning more every single season. I completed the Certificate in Agroecology and Sustainable Food Systems, at UC Santa Cruz, and worked with some of the best growers in the Hudson Valley of New York at the Poughkeepsie Farm Project. I have farmed for The Greening of Detroit and Keep Growing Detroit, as the farm manager of Plum Street Market Garden. I am an active member of the Garden Resource Program, Grown in Detroit, and Detroit's community of growers. I have love and passion for efficient growing systems, collaborative education, preserving heirloom varieties, trading perennial stock and seeds, and advancing the aesthetics of local flowers.
Informed by permaculture and motivated by organic principles, The Farm on Jennings, LLC is committed to supporting the health and longevity of animals, humans and our environment by using practices that enhance rather than harm. Owner and experimenter Carole Caplan is an E-RYT 500 yoga/ meditation teacher and teacher-trainer growing veggies, herbs and flowers on a beautiful 11-acre farm just north of Ann Arbor. Facility rentals available for intimate gatherings, meals, classes and more.
Nate and Jill Lada
GREEN THINGS FARM
Green Things Farm grew out of our love for each other and their community. We started the farm in the spring of 2011 at the Tilian Farm Incubator Program. In 2013 we purchased 64 acres of conserved farmland on Nixon Road. We grow a wide variety of vegetables, fruits, flowers and grains. We also raise pigs, cattle, and chickens. We started with a bare conventional field and work every year to build infrastructure and improve the health of our farm ecosystem. As of 2015 we are certified organic. We are deeply grateful for the support we have been given from the Ann Arbor community.
My original farm mentor once told me that food satisfies our hunger, while flowers satisfy our heart. It is with this bit of wisdom I set out to establish a farmstead in 2013 in Dexter, Michigan. A decade earlier, a summer job at the MSU Student Organic Farm turned into a life long passion for glorious, glamorous dirt. From there I spent several seasons in New England, earning my chops with some tough-as-nails farmers growing vegetables year round in Massachusetts and Vermont. Now, back in the community where I grew up, flowers are growing everywhere on my own farm named for my two daughters.
Luella Acres is rooted in our passion for bringing the beauty of the outside in. We are committed to growing practices that are safe and healthy for our family, our customers, and the earth. We grow unique and stellar flowers and foliage for designers and florists as well as for our own whimsical farm inspired designs.
MARILYN CROWLEY
PISTIL PRODUCTIONS
I started Pistil Production in a shady, land bank owned property in 2011. In 2015, I bought property in Belleville with two goals in mind:
1. Get a Dog
2. Plant Perennials.
Membership in the Michigan Flower Growers' Cooperative is allowing me to expand my flower production while still keeping my day job (for now!). I will be planting Peonies next year and My pup's name is Mayor Mildred McPuncherson.
Growing Hope helps people improve their lives and communities through gardening and increasing access to healthy food. You'll find us working to educate, inspire, and empower the community — in schools, at our urban farm, at our farmers markets, in our downtown Ypsilanti retail shop, and around southeast Michigan. Through all of what we do, we work to Grow Healthy People, Grow Healthy Places, and Grow Healthy Economies. We love growing flowers and use the revenue to help pay for our educational programs.
I am happy to be joining the local hoopin' and hollerin' of the small organic farm revolution armed with buckets of bright, colorful flowers. Raindance Organic Farm, just north of Ann Arbor, is on a mission to create a sustainable family farm that serves our community by growing great organic food and connecting adults and kids with the beauty of nature and the gifts of wellness. The joy of flowers brought indoors connects working people-- from parents washing dishes to engineers typing memos-- to the the soil, the air, and the water we all share. I'm so happy to be part of that connection.
Flowers are a fleeting joy. They beg us to savour them before they fade, and then move on. They hold a connection to nature, and in that connection, a link to simpler pleasures. Marilla Field & Flora seeks to provide a source for that connection and to find the beauty in our surroundings. With seasonally grown flowers and ethically foraged flora, our creations tell a story. We grow all our flowers and forage at the Tillian Farm Development Center in Ann Arbor, and love to share our beauty with the community around us.
Andi Hathaway
Carlandia Flower Farm
Andi and her husband Carl are owners of Carlandia Flower Farm, a 40 acre farm in the rolling hills, near Manchester, Michigan. A new resident in the US, Andi is originally from Canada, where she owned a farm and worked as a zoo keeper for 15 years. Andi has a strong love for nature and has always been fascinated by the connection between humans and animals. Over the past few years, she has discovered the healing power that the plant world also offers us. By immersing herself in flowers, she found beauty and meaning during the process of grieving the loss of a loved one. In this therapeutic time of nurturing,
harvesting and arranging her beautiful blooms, Andi revealed to herself a new beginning. Eager to spread the beauty and joy that she experienced, she started sharing her flowers with family, friends and her community. As her passion and learning have grown, so has Carlandia Flower Farm. Andi and Carl also have plans to develop Carlandia into a retreat for others to find peace amongst the beauty of the flowers. Andi is excited to be part of the expanding local flower movement and to give back to her community with an abundance of fresh, seasonal blooms.
GWEN MEYER
CORIANDER KITCHEN AND FARM
I'm Gwen Meyer, farmer owner of Coriander Kitchen and Farm, founded in 2015 and located in Detroit, just east of Eastern Market. I manage our 1/2-acre farm that grows baby transplants, full grown vegetables, herbs, edible flowers, and cut flowers. I believe in growing with diversity in mind, mimicking a fuller sort of ecosystem. At Coriander Farm, we grow using organic methods and a whole lot of love.
WE ADORE FLOWERS
GINETTE BLADES
We want our flowers to really say something, hopefully they even sing. Something pretty is just right sometimes, but we love uniqueness, complexity, and poetry. We love playful color palettes, big reaching structures, and wild imperfect bits. We love using what we have to turn out a collage of the here and now. We grow using sustainable practices in Ypsilanti, just up the street from Sidetracks, at our urban farm and flower studio.
Become A Grower Member
Membership to The Michigan Flower Growers' Cooperative is open to experienced growers in Michigan and Northern Ohio. We are a growers-only cooperative and market--all products sold through the cooperative must be grown on the members' own farms.
MFGC is a member-owned cooperative. Upon joining, growers become part-owners of the business, and gain the right to vote at member meetings and elect and even run for board positions.
Click here for our New Grower Intake Form, outlining the process to join us as a grower. Click here for the cooperative's Bylaws.
How to shop
Seasonal Wholesale Buyer Pass
Studio florists, retailers and event planners are welcome to purchase a Buyer Pass to shop the market and place preorders. The buyer pass is good for one market season and must be purchased annually. Click here for our Buyer Pass Application and instructions.
Open to the Public
Our market is open to the public for retail sales every Wednesday in season from 10am - 12pm.
Marketplace Members please log in here.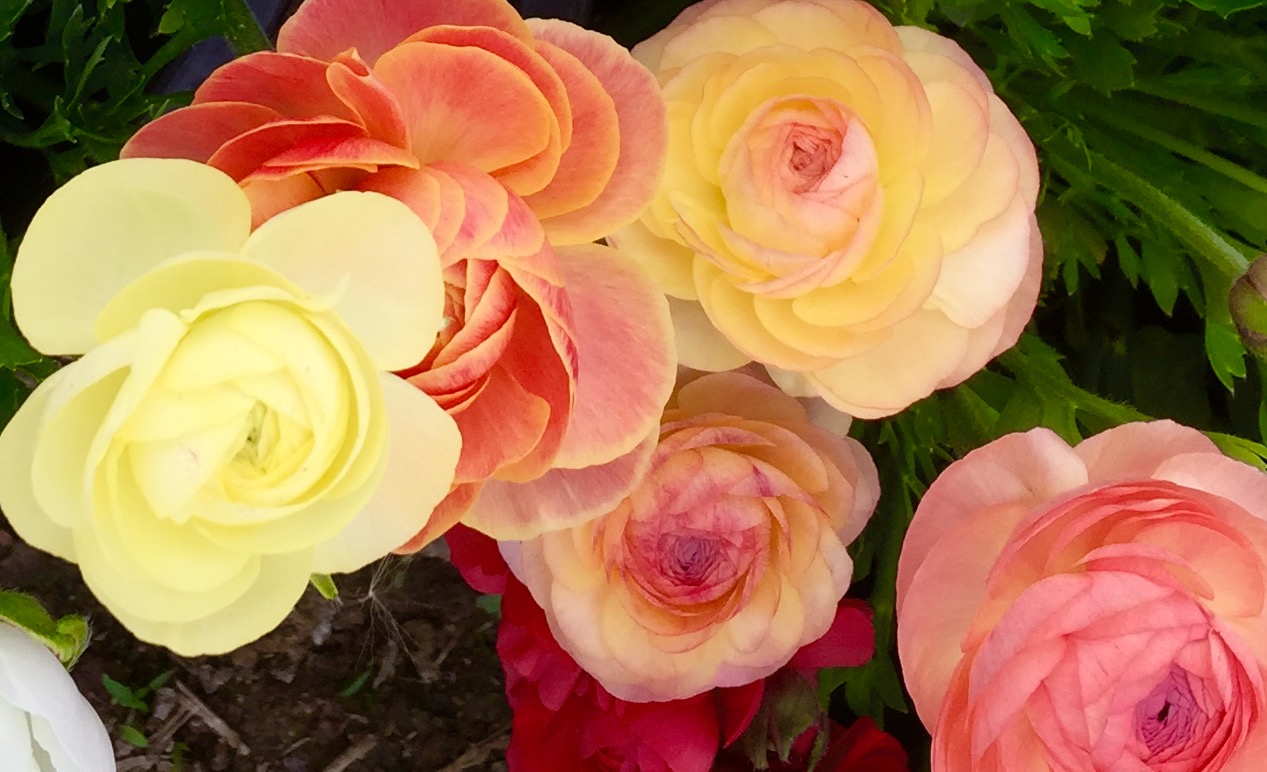 JOBS
Currently, we do not have any job openings.